Worldwide Wi-Fi access with eduroam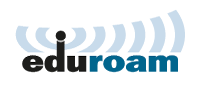 The eduroam project provides wireless internet access to students, academics and other members of participating research institutions at all participating institutions without having to undergo any additional formalities. The User ID of the home institution is sufficient.
Availability at the University of Passau
In Germany, this service is performed by the DFN Association also known as DFN Roaming. At the University of Passau, eduroam is available in all areas with WLAN coverage.
Who can use eduroam?
Eduroam can be used both by members of the University of Passau as well as guests whose home institution is participating in eduroam.