Multimedia rooms and studios
Computer rooms with SMART boards
In the computer rooms ZIM 044 and ZIM 047 in the building of the Faculty of Computer Science and Mathematics, a SMART board is installed which enables the projection technical possibilities, particularly in the implementation of courses involving interactive components (marking, saving projection content, program/sequence control), to be extended.
People who are interested in using rooms ZIM 044 or ZIM 047, should reserve them by contacting Mr Flügel.
Multimedia room in the Nikolakloster
On the lower floor of the ZMK the following particularly media-technologically well-equipped rooms are located:
TV studio (U01)
Radio / Audio studios (U15 - 17)
Newsroom (U03)
Video conference room (U08)
E-learning room (U10)
There you will find selected software systems for comprehensive and cross-media production available to you.
If you have any queries and reservation requests, please get in touch with Fritz Pflugbeil or Franz Habel.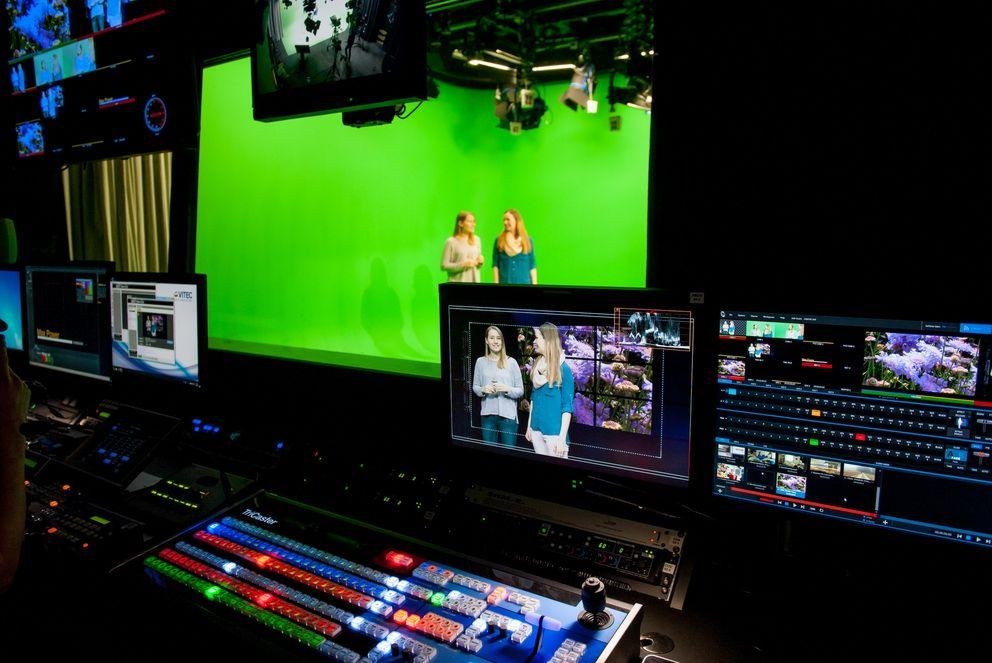 The TV studio makes it possible to produce all TV formats, from simple presentations with teleprompter to talk shows with 5 participants as far as elaborate live entertainment shows.
The livestream is published on the video portal of the University of Passau but can be incorporated into other websites if desired. Up to 35 guests can follow the proceedings on site.
Features and technical equipment
Fresnel lenses spotlights and surface luminaires enable perfect spotlighting. The green screen with chamfer allows the presenter to be immersed in virtual worlds. The scenario can be controlled from the production room. Up to 7 students can be deployed here depending on the project scope. The director keeps in contact with the presenter and the camera people by intercom. Three mobile studio cameras and three remote controllable cameras are available for the team. The sound is transmitted exclusively via radio. There are clip-on microphones as well as collar microphones available.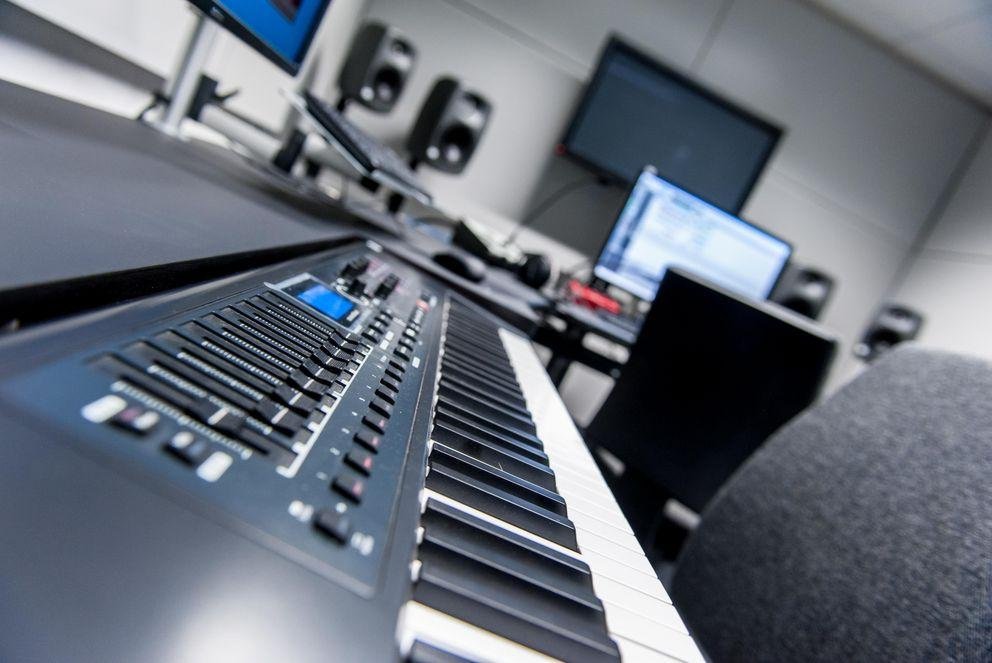 Whether it's spoken and music recordings, live radio operations, own music compositions or 5.1 Surround audio mixing, the ZMK has practically everything you could wish for. As well as state-of-the-art hardware equipment, numerous software solutions help you to get the best from your audio projects.
Features and technical equipment Radio studio U16
The radio has the broadcast automation system Mairlist, as well as a radio console form DHS. All audio signals of the ZMK intersect here. In addition, the radio offers the possibility of recording external interviews via telephone hybrid. As well as the production PC, there is an AV workstation for production of articles/reportages and a CvD PC for research tasks, administration of broadcast plans and database maintenance available. The recording room is fitted with three large diaphragm microphones (including a Brauner Panthera). A height-adjustable speaker control desk with integrated manuscript lighting and adjustable connections for closed-back headphones makes it possible for the speaker to concentrate on his work in the most optimal way. The room can also be used to place studio guests for a running radio broadcast, an off-commentator or an interpreter for live productions in the TV studio.
Features and technical equipment Audio editing room U15
In the Audio editing room, there are high-quality near-field studio monitors from the company Genelec available in stereo, 2.1 or 5.1 configuration. Avid Pro tools HD 11 and Steinberg Nuendo 6 are used for DAW software. Software solutions for virtual instruments and restoration tools supplement the deployment possibilities. Here you will find a fully equipped recording studio with the possibility of carrying out extensive recordings and post-productions. Recordings from the Speaker room U17 are possible here; the production PC U15 can be switched to the control console in Speaker room U17 and operated from there. It's also possible to edit telephone calls via the telephone hybrid of the AVT Company, mix and encrypt in 5.1 surround sound, feed signals from different rooms of the ZMK (such as from U16, U17, U04, U01) as well as professional video and film dubbing. The production PC is an HP workstation especially for audio production with the following software equipment:
Avid Pro tools HD 10 and 11, Steinberg Nuendo, native instruments complete sample library, virtual instrument and effects library, waves broadcast & production bundle, iZotope RX 2 restoration software. In this way, simple jingle and music productions, as well as the dubbing of films and videos, can be realised without using real instruments.
To record instruments, voice or music groups, you need to book rooms U17 and U15 together.
Features and technical equipment Audio recording room U17
This room is optimised acoustically for sound recordings and offers very minimal reverberation time in order to be able to do recordings in studio quality. It is fitted with three large diaphragm microphones (including a Brauner Panthera) and can if necessary also be supplemented with other microphones or microphone types such as small diaphragm or dynamic. A height-adjustable speaker control desk with integrated manuscript lighting and adjustable connections for closed-back headphones makes it possible for the speaker to concentrate on his work in the most optimal way. The large window ensures visual contact with the other recording studios U16 and U15 as well as to the newsroom U03. One console offers the possibility of hooking up different PCs such as the production PC from U15/16 or a PC from the Edit Suite U04 into the Speaker room and operating them from there. The room can also be used to place studio guests for a running radio broadcast in U16 or an off-commentator or interpreter for live productions in the TV studio. For this purpose, the respective video signal can be shown synchronously and with zero latency on a monitor in U17, and instructions to the speakers in U17 can be shared via an inbuilt intercom connection from the different production rooms.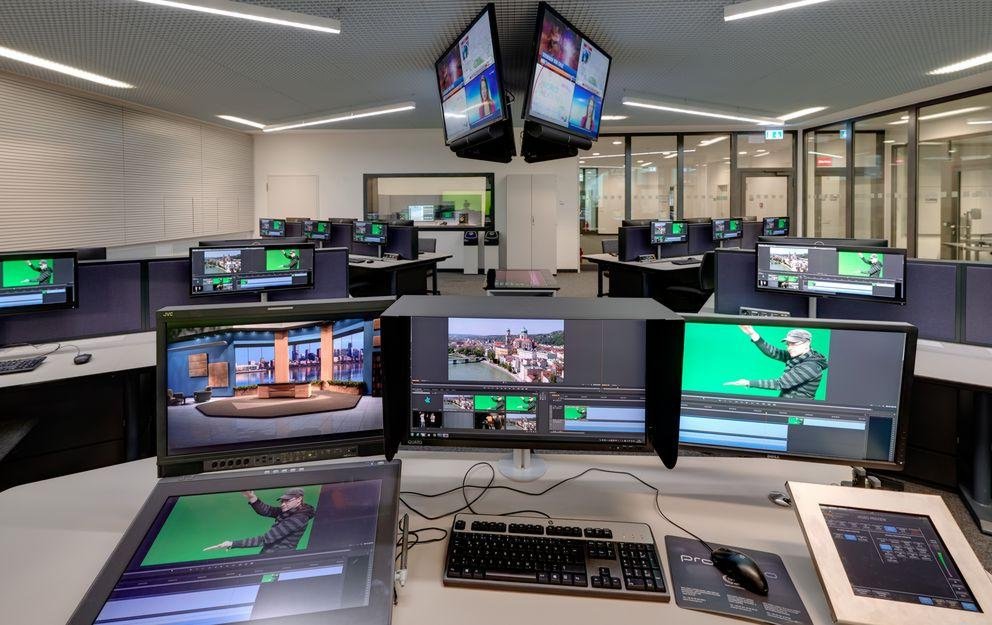 The newsroom is the heart of the degree programmes Media and Communication B.A. and M.A. All media are covered here: video, audio, print and online. The newsroom makes a comprehensive and fully integrated infrastructure on the production of all common types of media available.
25 PCs enable you to collect, prepare and publish cross-media content. With the help of an editing system (WoodWing Enterprise), the students can research, edit, prepare layouts and publish. The editing system allows you secure data storage for this purpose as well as comprehensive versioning of all work and is directly integrated into the programs Adobe InDesign, Adobe InCopy and Adobe Photoshop. A font server makes available over 2500 professional font licences (Adobe Font Folio) available for legally secure layout work. The access to a professional video archive system (ProxSys) makes it possible to directly access a comprehensive (video) media archive. Special software (EnFocus PitStopPro, EFI Fiery Express) enables you to makes professional proofing print-outs (Epson Stylus Pro 9800 44) and to print small circulations of magazines (max. 52 pages) directly on the printing station (XeroX) on-site.
Features and technical equipment
The heart of the 25 PCs is the editing system Enterprise by Woodwing. The entire publication process is handled in a channel-independent way. For the cross-media production, the students use the Adobe Master Collection. Thanks to the interface between Woodwing DPS and Adobe InDesign, the students are able to develop their own apps for digital magazines (IOS and Android), that are impressive in terms of creativity and interactivity. All files that are generated during the production process are saved securely by the system, archived and fully versioned - the organisation of hundreds or even thousands of different media elements is, therefore, no problem any more.
The good spatial linkages make fast data exchange between the newsroom, TV studio, Edit Suite and radio possible. In the centre of the room, the most varied image and sound signals (TV studio, Blu-ray, Sat, HD-SDI, HDMI, VGA, lecturer PC) can be placed on a video cluster and, in this way, the 4 table groups can be supplied with different displays.
A touch table (Samsung SUR40) is located in the centre of the room and is available for different multimedia uses. With the special touchtech software, the table can be used in a classic light table functionality e.g. in the final review of photos or layouts, or as an innovative presentation form. Thanks to the integrated Second Screen functionality, the Video Cluster ('monitor cube') can also be used as a presentation screen.
If required, there are an additional 10 powerful laptop PCs for mobile production; 15 tablet PCs (Apple iPad) incl. charging case and 25 high-quality headsets available in the newsroom.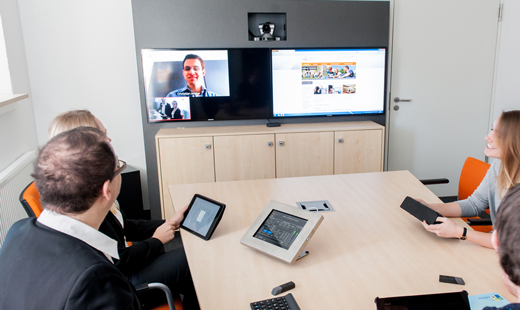 Discussion in working groups or with remote cooperation partners
Supervision of final projects/theses at partner universities abroad
Implementations of Webinars (online events)
Features and technical equipment
up to 7 persons
Video conference installation (Cisco C40)
Desktop PC for web conferences
1 PTZ camera and two pressure zone microphones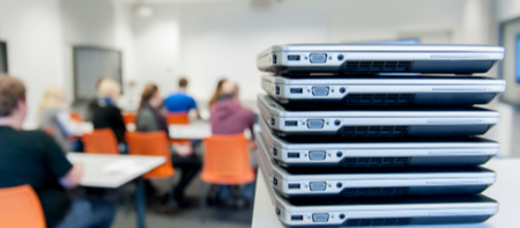 Implementation of seminars with special claim to media usage
Recording and broadcasting of courses at the touch of a button
Documentation of work procedures in the seminar or in workgroups
Presentations over several levels
Features and technical equipment
up to 22 persons
Projector / five interactive whiteboards
20 notebooks with the following software:

Techsmith Camtasia Studio
Adobe Captivate
Adobe Lightroom
basic audio and video processing tools

Bluray-Player / SAT installation
Audio technology (5.1 installation and microphoning)
Cameras