Media-supported teaching scenarios
The ZIM maintains a selection of digital tools for your teaching. We are happy to advise and support you in using these tools in your courses. If you are interested, please get in touch with ZIM Support or arrange an personal appointment.
E-LEARNING::PRACTICAL TIPS
In this booklet, you will find suggestions and examples of media-supported teaching for your face-to-face courses, blended learning formats or online courses.
All applications are based on real teaching scenarios that are carried out at the Uni Passau with the support of the ZIM.
Download the booklet here
E-LEARNING::PRACTICAL TIPS
You can find more practical tips in the
ZIM: E-LEARNING COMPASS
Design ideas for your course
In this teaching method, the classic relationship of relaying of content and immersion is reversed in a spatial sense. In the TV studio you can pre-produce some lectures even before the start of the semester and gradually make them available to the students. They prepare the content at home on their PC while you have more space for discussions, exercises and practical examples in the face-to-face sessions.
If you have already recorded a course in the lecture theatre, we can also rework this for future use.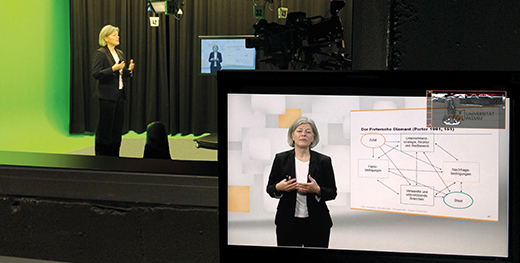 On the ILIAS learning platform you can display all courses with all course content in a structured and interactive way. The focus is thereby on 'virtual teaching'. Use tests and surveys, exercises with peer review or collaborative writing (Etherpad), to activate and motivate your participants. Use the effectiveness and flexibility of electronic forms of learning and create a sustainable curriculum for your students.
Online courses in ILIAS can also be used for a partnership with the
Virtuelle Hochschule Bayern (vhb).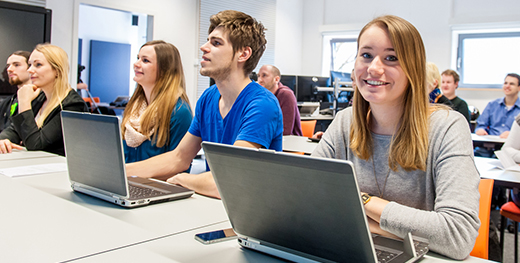 Would you like to compile and evaluate software-supported multiple-choice tests for your seminar? With software solutions, you can map exams with very high participant numbers in an easy and efficient way.
The E-learning laboratory of the ZIM is designed so that numerous media didactic teaching and learning scenarios can be displayed in a fast and uncomplicated way. Various interactive smartboards, cordless presentations from laptops and recording at the press of a button make this room an optimal environment for project-oriented seminars or lesson observation.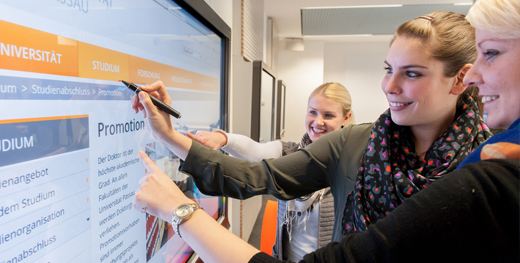 Actively include your participants in your lecture. The term audience response refers to live voting that is displayed and can be evaluated in real time in the lecture theatre. The students vote anonymously with their smartphones, tablets or notebooks and thereby form a representative pattern of opinions for the lecturers. From simple voting to more complex peer instruction it's possible to realise various scenarios.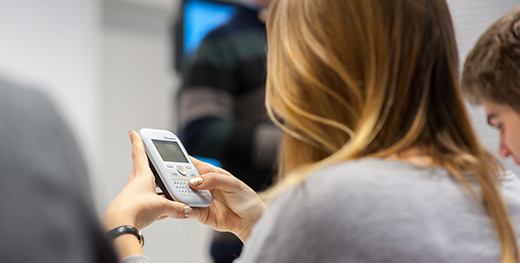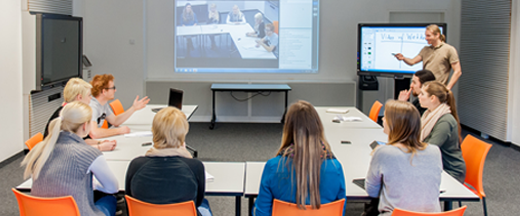 In a webinar the tutor is usually speaking via the internet to many participants. Students can take part in the course independent of their location and simultaneously. But you can also integrate this form of communication into your course. Invite guest lecturers from all over the world into your lecture virtually or hold a joint seminar with another higher education institution.
The technical implementation of this takes place via Adobe Connect, which is made available by DFN.
Media project instead of presentation. Your students work on the seminar content independently and present the results in the form of a podcast or learning video. Students and lecturers can reserve and loan audio recorders and video cameras in the equipment hire office.
Through this method, an intensive, constructivist exploration of the learning content occurs. The results can be published on the media portal of the University of Passau, thereby representing a valuable supplement in the sharing of content.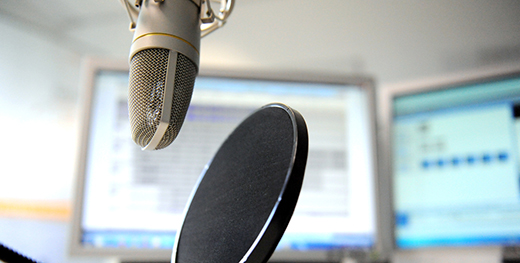 Evaluation, assessment and appraisal are terms that play a particularly important role in a higher education institution context. ZIM offers you various possibilities to digitalise this process and implement it with software support. It could be in the form of a multiple choice test, a quantitative survey or the evaluation of your course.